Corporate Profile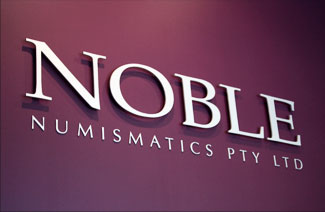 Noble Numismatics Pty Ltd
(ABN 21 001 352 969) is an Australian company trading in coins, medals, stamps, banknotes and related material. Annually the company conducts three major, international numismatic auctions. Confidential auction enquiries are welcome and free to the general public.
Noble Numismatics also trades retail in a variety of numismatic material and offers immediate settlements to purchase all types of collections.
Arrangements for valuations can be made by contacting either Sydney (02) 9223 4578 or Melbourne (03) 9600 0244.
International Association of Professional Numismatists
Noble Numismatics is a registered member of the IAPN, the world-leading association of numismatists. The association's international members include renowned firms from around the world.
Membership of the IAPN guarantees customers a high level of service and expertise. The objects of association include:
"The members of the IAPN guarantee the authenticity of all the coins and medals which they sell - this is a condition of membership"
"Membership is not lightly acquired and the vetting of applications involves a protracted procedure"
"In order to be admitted... the committee needs to be satisfied they have carried on their business in an honourable manner and that they have a good general knowledge"
-International Association of Professional Numismatists, Object of the Association, 1999