Catalogue
Results 1–1 of 1
Page 1 of 1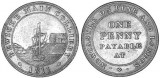 Lot 1878
Sale 58 Northumberland
NEWCASTLE, Berwicke Main Colliery's penny, 1811, view of coal staith with ship laying to/legend (Davis 16). John Elliot's farthing, 1814 (Davis 34). The first with ...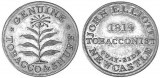 Lot 1879
Sale 58 Northumberland
NEWCASTLE, John Elliott farthing, 1814, tobacco plant in bloom/legend (Davis 35) a proof struck in silver. Attractive grey toned FDC and very rare.