Catalogue
Results 1–1 of 1
Page 1 of 1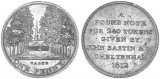 Lot 1870
Sale 58 Gloucestershire
CHELTENHAM, John Bastin & Co's penny, 1812, view of St. Mary's Church in perspective, an avenue of trees/legend (Davis 14). Slightly double struck, brown patina ...
Lot 1871
Sale 58 Gloucestershire
CHELTENHAM, John Bishop & Co's penny, 1812, similar to the previous lot (Davis 15). Sedbury, Sedbury Iron Works penny, undated, view of a mill with ...