Catalogue
Results 1–1 of 1
Page 1 of 1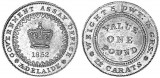 Lot 3061
Sale 58 Adelaide Assay Office
ADELAIDE POUND, first type 1852, with beaded inner circle on reverse and die crack at 12 o'clock and fine milling or edge graining. Nice old ...
Estimate $50,000
SOLD $50,500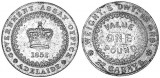 Lot 3062
Sale 58 Adelaide Assay Office
ADELAIDE POUND, second type, 1852. Has had a mount removed at the top otherwise nearly very fine.
Estimate $1,500
SOLD $1,560