Catalogue
Results 1–2 of 2
Page 1 of 1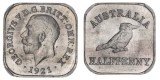 Lot 1232
Sale 127 Aust. Commonwealth - Patterns & Proofs
GEORGE V, Melbourne Mint pattern square halfpenny, 1921, in cupro-nickel by E.B.Mackennal. Uncirculated with full original mint bloom, extremely rare and possibly the finest known.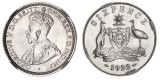 Lot 1233
Sale 127 Aust. Commonwealth - Patterns & Proofs
GEORGE V, Melbourne Mint, 1922. Well struck with high rims, possible specimen strike for this notorious date for weak strikes. Cleaned uncirculated and very rare ...