Sale 100 preface
Tuesday, 03 July 2012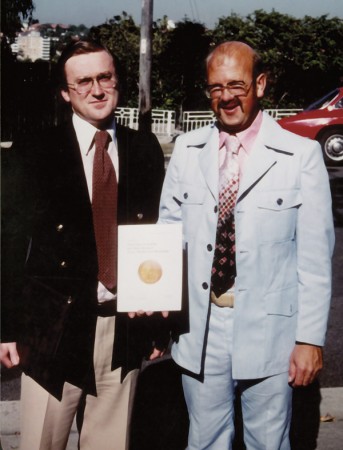 Jim Noble & Mark Freehill. Sale 1, 1977.
Welcome to our one hundredth sale, a milestone for our company, now in its thirty seventh year. We have chosen to hold the sale in Sydney in order to commemorate the event because the first sale was held in Sydney in October 1977. The July or winter sale has always been held in Melbourne since its inception in 1982. How things and people have changed since that first catalogue which was printed at John Gartner's Hawthorn Press by the letter press method in Melbourne and the photos were done by my brother in Perth. Look carefully at the photo of yours truly (then just 31) holding that first catalogue beside Mark Freehill, a colleague, first assistant and friend; we are both standing in front of the Bellevue Hill (and first) house that I had bought only a few months earlier and were on our way to the auction the morning of the sale.
To all of you who attended those early auctions a special warm welcome for your loyalty and support. We have tried to make this sale attract the widest range of collectors and careful perusal of the catalogue will show we have gone a long way to achieving this.
Highlights of this sale are many, a few worth mentioning are the very fine NSW holey dollar and the good very fine NSW fifteen pence or dump acquired by the owner at much earlier sales in the mid 1980s, together with a choice Adelaide pound and Sydney mint half sovereigns of 1856 and 1857. The Australian Commonwealth coins, banknotes and stamps together with British halfcrowns all collected by the late J.B Brooks of Victoria are to be found in different sections of the catalogue. In patterns and proofs there is a Sydney Mint two pounds 1887 for the then Queens's Jubilee, a 1920 pattern square penny, a proof 1927 Canberra florin, proof 1935 penny and halfpenny and proof 1937 crown. New Zealand's rarest coin, the pattern shilling 1933, makes a rare appearance on the market. Two important West Indies 'holey dollars' namely a British Guiana three guilders and a St Vincent twelve bitts and a Guernsey crown of 1809 head up the British colonial coins.
In the banknotes there are many stand out items in the private bank issues including Dr Mira's early currency notes, the CBC of Sydney specimen notes and the Queensland Treasury notes 1866-1867. The commonwealth bank cheque no1, which we sold in Sale 1 makes a re-appearance on the dawn of the centenary of its issue.
In world banknotes mention should be made of a significant collection of Indian currency.
In ancient coins the highlight is the offering of an Ides of March denarius of Brutus the first and only example seen in auction in Australia.
The opportunities presented in this sale should not be missed, especially in these uncertain financial times. We look forward to seeing you at the pre-sale viewing and the sale. We would also like to wish all of our clients continued success and we will be happy to provide any assistance required.
Jim Noble