Sale 100 preview
Friday, 01 June 2012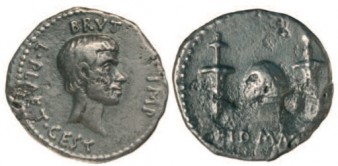 Silver denarius of Brutus, Ides of March issue.
Our 100th sale which takes place in Sydney on Tuesday 24th to Thursday 26th July at the Hotel InterContinental, 117 Macquarie Street, Sydney, includes several standout items as well as interesting collections.
One of the main collections is that formed by the late John Barrett Brooks (known as Barry) of Melbourne who collected Australian coins and banknotes and British coins as well as a fine collection of stamps, all under the guidance of Ray Jewell in the 1970s and early 1980s.
Highlights of the auction are a good very fine NSW holey dollar estimated at $100,000 and a nearly extremely fine dump 1813 estimated at $40,000. The holey dollar was acquired twenty-six years ago at Nobles' July 1986 sale, (lot 2459) at $22,500. There is from the same collection a choice type II Adelaide gold pound 1852 estimated at $35,000 and two Sydney Mint half sovereigns, 1856 and 1857 ex R.G. & C. Pratley Collection in March 1989. A Sydney Mint two pounds Jubilee head 1887 tops the estimates in gold at $75,000. In Australian Commonwealth there is a proof 1937 crown and proof Canberra florin 1927, both acquired in 1988. In New Zealand coins there is the greatest of all rarities the pattern shilling 1933 estimated at $40,000.
In paper currency there is the collection formed by Bill Mira, author of Coinage and Currency in New South Wales 1788-1829, Sydney 1981. This collection offers attractive examples of promissory notes from Sydney 1812-14 and Hobart 1823-5, cheque forms and sight notes. From a bank manager's estate is a selection of Commercial Banking Company notes of the 1880s as specimen notes, some not previously seen, from one pound to fifty pounds. They are offered on behalf of a descendant and it is the first time these notes have been on the market. The Australian notes in the Brooks Collection are highlighted by a 1918 'square' ten pounds of Cerutty/ Collins estimated at $20,000.
Star notes include a choice consecutive pair of Coombs/Randall ten dollars estimated at $20,000. There is a nice original nearly uncirculated five pounds star note estimated at $8,000.
In British coins a choice proof William IV 1831 crown estimated at $15,000 heads the list. World coin varieties include a choice Rosa Americana two pence ex J.J. Ford Collection, a very rare British Guiana holey dollar of three guilders (1808) and a St Vincent 12 bits holey dollar (1811-14) originally discovered by Jim Noble in Sydney in 1960 and later in the Pridmore Collection.
Ancient coins include a gold octadrachm of Ptolemy VI of Egypt and a silver decadrachm of Ptolemy II, several Roman gold aureii and a silver denarius of Brutus, the incredibly historical Ides of March issue with a dagger on the reverse commemorating the assassination of Julius Caesar. Though with some surface corrosion the coin is not worn and is estimated at $40,000.
In world banknotes there is a very good collection of Indian banknotes formed in Australia over the last twenty five years. Highlights are a George IV fifty rupees, and two rupees eight annas (two of them) of high grade Persian Gulf issues. An outstanding rarity is the offer of a USA one million dollar bond of 1953 to the National Bank of New York or its assigns. It is serial no 63, believed to have been saved from destruction in Havana, Cuba, and carries an estimate of $30,000.
There are several estate collections, one from Sydney has British and Roman coins plus two NSW dumps all purchased from the main dealer in Sydney in the 1930s and 1940s Dave Raymond.
In the military medal section one of the highlights is a Military Cross group for the only Australian escapee from Colditz in World War II. It is rare as an army award to an airman and historically significant hence it is estimated at $20,000. There is a Medal of Honour awarded to a union soldier in the U.S Civil War, the estimate is $14,000. There are other casualty and POW groups as well as one of the most comprehensive collections of documents, memorabilia, militaria and medals to an Air Dispatcher and his family that we have seen. Of Australian historical interest is an 1871 probate document for John George Clunis [sic.]-Ross of the Cocos (Keeling) Islands.
Also featured is a Sudan pair to the NSW Infantry with Lord Mayor's Medal, another Military Cross MID group for the Pacific Campaign in WW2, an Air Force Cross group (1949 award) and the inaugural Kings Medal (RMC of Australia) December 1919 to H.F.H Durant.
For further details contact Jim Noble at (02) 9223 4578 or Jill Pearson (03) 9600 0244.