Sale 99 preview
Friday, 09 March 2012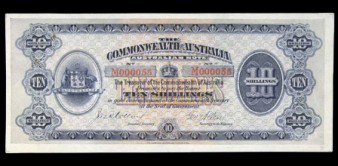 Ten Shillings Presentation Note, Collins/Allen (1913).
Noble Sale 99 features the Tom May collection. The collection formed by the late Tom May of Melbourne, who passed away last year just shy of his eightieth birthday, is a feature of the sale in Sydney 17-19 April at the Hotel InterContinental, the viewing for which commences immediately after the Easter break.
Tom May was a good general collector with a keen eye for the artistic and historical aspects of coins and medals. In recent years he contributed to this magazine as well as the Australian Numismatist, the official organ of the Numismatic Association of Victoria.
Tom was a prolific buyer from Spink & Son mostly through the Melbourne office of Noble Numismatics. Many of the Spink tickets have been retained with the coins for provenance records and the catalogue links any particular coins to the articles he published. His great love was Greek silver, Roman silver, British gold and silver and British historical and military medals.
The Greek silver includes a fine style Tetradrachm of Carthage circa 400BC and fine Roman portraits on Denarii of Julius Caesar, Pompey, Augustus and Otho. In British there are fine portrait pennies of Offa, Alfred the Great, Harold II, and William II. The top British coin is the Gold Triple Unite of Charles I minted at Oxford in 1643. It was acquired from the sale of the Sharps Pixley Collection in November 1989 for £5,000 and is now estimated to realise $35,000.
Tom's most expensive acquisition was a New South Wales holey dollar 1813 that was bought at the Spink Australia Sale 19 in July 1986 for $19,000. It is now estimated at $80,000. There is as well a very fine dump of fifteen pence estimated at $20,000 and an Adelaide gold pound 1852 estimated at $10,000. His colonial tokens include a very fine William Allen Jamberoo penny 1855 by J.C Thornthwaite, estimated at $3,500. Tom's historical medals feature a silver medal of the defeat of the Spanish Armada 1588 (Eimer 57) estimated at $2,500 and a series of Charles I Royalist badges. The sale includes an extensive collection of military medals and badges, some of historical interest. There is a selection of WW1 aviation medal groups and amongst several Navel General Service medals on offer is included one with bar Trafalgar. There is also a rare South African medal with clasp 1879 to a casualty at the Battle of Hlobane. Also included are several lifesaving awards for sea rescues, one a multiple recipient.
Another feature collection in the sale is an extensive collection of Australian and New Zealand tokens formed by a Sydney collector now retired to live in Queensland. The highlights of the collection are the four-lines Tea Stores Penny 1852 by J.C Thornthwaite originally sold in Spink Australia Sale 19 in July 1986 for $14,200 and now estimated at $20,000 and a good very fine James Campbell, Morpeth silver threepence estimated at $10,000.
In historical medals the collection formed by the late Rev M.R Williams features many Queensland issues rarely available.
Banknotes are highlighted by the two presentation ten shillings numbers M000054 and M000055. The first was for many years in Mick Vort Ronald's collection until sold at Spink Australia's auction in March 1988. The latter one was acquired by M.R Roberts from Western Australia with the original letters and so the notes were once again brought together when acquired from M.R Roberts in December 1988. The notes were awarded in the ballot in 1913 to W.N Hedges, Federal member for Fremantle. The notes are offered in two separate lots, but may well be bought by the one bidder.
Pre Federation notes include three of the National Bank of Tasmania, one a ten pounds issued at Zeehan, a five pounds for Launceston and another a one pound for Ringarooma, this latter is unrecorded. All three have not been previously seen.
Another consignor has submitted Queensland Treasury notes of 1866 and 1867 for one pound and five pounds. These were printed by the government printer and have not previously been in a Noble auction. The estimates are $45,000 and $40,000 respectively.
A collector has submitted a range of 1925 pennies, which have been catalogued according to their die state. The best graded piece is valued at $500 while many are listed at $100 each, usually in group lots. However in the top Australian items are an uncirculated 1925 penny at $35,000, a 1930 penny in very fine condition at $25,000 and a previously unlisted proof twenty cents 1966 believed to be minted by the Royal Mint London and which shows the different obverse die, one detail being that the coin has a single eyelash, not a double, as in the regular Canberra minted issue. The estimate is $50,000 which may be justified as the coin is believed to be the only example outside the one in the Royal Australian Mint Collection.
One deceased estate includes many Royal Australian Mint and Perth Mint issues in gold, platinum and silver and is estimated to realise about $200,000 in 200 lots.
In world coins there are some excellent Russian coins in silver plus a gold ten roubles of 1756 estimated at $6,500. There is also a choice New Zealand Waitangi proof crown estimated at $5,000.
For further details contact Jim Noble at (02) 9223 4578 or Jill Pearson (03) 9600 0244. Or email jim@noble.com.au.