Sale 98 preview
Friday, 14 October 2011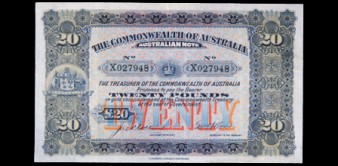 Twenty Pounds, Collins/Allen (1914).
Sale 98 will be held over four days, Tuesday 22nd, Wednesday 23rd, Thursday 24th and Friday 25th November. The sale features two important private collections, the David Allen collection of Australian Agricultural Society medals in 252 lots being sold in the 7th session on Wednesday at 11:30pm and a collection of Indian banknotes formed in the 1960s and 1970s being sold on the Thursday afternoon at 2:30pm. Both collections have many items rarely, if ever, seen on the market.
Other private collections include a general Australian offering of coins and banknotes formed by Peter McGuiggin of NSW, Australian and world formed by Larry Thornton of NSW and Anglo Saxon and Norman coins and other Australian including two pattern square kookaburra pennies of 1921, from the collection of the late Frank McCarthy and earlier from Vincent Read, founder of Read's bookshop in Brisbane. Of three holey dollars offered one has not been on the market previously, its lucky owner was given it as a present for his 21st birthday many years ago; another is from the late Bill Parish's collection and is one of the few known to be countermarked by T. Knight. The former is an 1804 Potosi Mint with clear countermarks estimated at $70,000, the latter is a 1799 Mexico (Mira-Noble 1799/3) with partially warn countermarks and is estimated to realise $35,000. It last sold in this company's auction in March 1987 where it realised $4,800.
In the Australian Commonwealth series highlights include a proof Canberra florin estimated at $45,000, proof penny and half penny 1935 pair estimated at $35,000 and a proof 1937 crown estimated at $30,000, this example was previously in the company's sale 18, April 1986 (lot 1218) where it realised $1,900. A very rare 1920 square penny is estimated at $120,000. The pattern square cupro-nickel kookaburra pennies of 1921 include one of both types, the one by Douglas Richardson is illustrated in the book on the Story of the Penny, by Vincent Read in 1949. It is toned uncirculated and estimated at $55,000. The one by Sir Bertram Mackennal also from Vincent Read and Frank McCarthy's collection is estimated at $45,000. There are five 1930 pennies ranging from good to very fine and four 1922/1 threepences the best being good fine estimated at $15,000 being possibly the eighth finest known. A high grade 1932 florin is estimated at $12,500 as it is virtually uncirculated.
The second evening session sees the offering of some outstanding Australian Commonwealth banknotes. The highlights are a nearly uncirculated Collins/Allen twenty pounds estimated at $150,000 (the highest lot estimate of the sale) and a choice Cerutty/Collins fifty pounds ex Roy Brook Collection. These and eight other notes were all acquired at the company's sale 31 in March 1990, the first of the A4 size catalogues that continue to today. That sale included an outstanding collection formed by a discriminating collector. At that sale they realised $14,000 and $15,000 respectively. Possibly the finest known red serial one pound is included with our estimate of $30,000. A red serial ten shillings comes from another vendor and is estimated at $60,000, it has not previously been auctioned. There are three one pound superscribed notes and several issued pre Federation banknotes of which the Bank of New South Wales Moreton Bay one pound of 1853 is the highest estimated at $15,000.
There is an excellent range of decimal star notes in uncirculated condition. A Phillips/ Randall five dollars ZNC prefix carries an estimate of $12,000. Specimen notes are all very special, highlighted by a Fraser/Evans polymer specimen 1993, signed by B.W. Fraser the Governor of the Reserve Bank at the time who signed the note and gave it to a relative. Added to this, it is specimen No 1, making it a very special offering. The estimate is $50,000. There is a unique set of specimen notes given to the engraver of the first decimal notes in 1966. The four notes all have zero serial numbers but no specimen overprint, as such they are unique and may represent excellent value at the estimates of $20,000 each.
The Indian bank notes selection includes the private collection formed in the 1960s and 1970s and is the most comprehensive seen on the market. It includes a one sided one thousand rupees of 1918 estimated at $10,000 and an extremely fine George V portrait one thousand rupees estimated at $18,000. A few other Indian notes from another vendor include a 1925 one thousand rupees in good very fine condition estimated at $12,000. The offering of these notes is timely in view of the fact that this is a rising market as the Indian economy grows and individuals are seeking these old and rare banknotes.
British coins include a choice nearly uncirculated five guineas of George II dated 1748 which carries the highest estimate in this session at $32,000. British silver includes Anglo Saxon, Norman, Scottish and Irish silver pennies from Vincent Read's collection. The William the Conqueror is a profile left penny. Illustrated in the book he wrote are issues of Aethelred II, Cnut, Edward the Confessor and Henry I as well as John Baliol of Scotland.
Highlight of the world coins is a Russia, Nicholas I family rouble, 1836 which carries an estimate of $80,000, it is in almost FDC condition with a lovely grey tone, also a Gold Coast silver ackey 1796 ex Frank McCarthy collection is estimated at $8,000. On the third morning, the ancients include a better than usual selection of gold issues with a Greek di-stater of Alexander the Great estimated at $15,000, a stater of Alexander the Great ex Frank McCarthy collection estimated at $2000 and a Carthage electrum stater from the same collector estimated at $1,500. Roman gold includes aureii of Claudius, Caligula, Nero and Pertinax, also there is a very rare denarius of Didius Julianus. There are at least five different collections in the ancient section. One collector now deceased, collected Roman silver and also a fine collection of autographs through the ages that are a feature in the miscellaneous section.
The sale concludes with military orders, decorations and medals, of note is a World War II RAAF DFC group estimated at $4,500 and two significant police groups one with CIE and an estimate of $8,500.
This is a very large general sale of over 5,500 lots with many bulk lots that should be viewed. Estimates total over $5 million. It will probably be best remembered for the wonderful series of agricultural medals collected by David Allen of Sydney. This is the first time so many have been illustrated in one catalogue making it a work of reference for this series alone. The highest estimate is for an Albury Industrial Exhibition medal of 1879 in silver awarded to Dr. Arthur Andrews, author of the standard work 'Australian Tokens and Coins', Sydney, 1921.
The viewing takes place at our Sydney office, Ground Floor, 169 Macquarie Street, on 16th, 17th, 18th and 21st of November. Enquiries, Ph. 02 9223 4578.