Highlights of our important July auction
Wednesday, 22 June 2011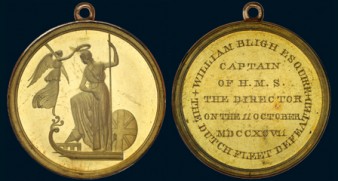 The small Naval Gold Medal awarded to Captain William Bligh.
This sale will be remembered above all else for the inclusion of the highly important gold medals awarded to Captain (later Vice-Admiral and Governor) William Bligh of Mutiny on the Bounty fame. The first is the Naval Gold Medal awarded to Captain Bligh in 1797 for the defeat of the Dutch Fleet at Camperdown.
The other medal is also in gold and was awarded by the Society for the Encouragement of Arts, Manufactures and Commerce, later the Royal Society of Arts, (founded in 1754 in Covent Garden in London) for the conveying of breadfruit from Tahiti to the West Indies in 1794. After serving aboard the Resolution as Sailing Master with Captain James Cook on his third epic voyage to the Pacific in 1776, Bligh was to return to the Pacific in 1787 in command of the Bounty to transport breadfruit trees to the West Indies when the mutiny caused the breadfruit to be thrown overboard. Bligh's superb navigation feat on board a longboat is, as they say, history and he once again returned to Tahiti to successfully complete his transportation of breadfruit trees. The Society's gold medal was at one time suspended in a swivel desk mount. Six silver tableware forks engraved WEB (William and Elizabeth Bligh) are also included. These Bligh items are being sold on behalf of descendants of Bligh.
The other outstanding feature of the sale is the offering, on behalf of the family, of a World War II Victoria Cross group to Private Edward 'Ted' Kenna of the 2nd/4th Infantry Battalion of the AIF awarded for magnificent gallantry in New Guinea in May 1945.
This is the first time Noble Numismatics has offered a Second World War Victoria Cross group at auction. There are only twenty Victoria Crosses to Australia for World War II. Ted Kenna was a Victorian and it was his wish that eventual sale of his awards should go to helping his children and grandchildren with their lives. The medal group has been on display at the Australian War Memorial in Canberra courtesy of the recipient's family until placed by them for sale with Noble Numismatics this year.
To support the military section a family has consigned the World War I DSO, Military Cross and bar, MID group to Captain P.J.F. O'Shea of the AIF. The multiple decorations were awarded to this gallant and courageous doctor for actions in Belgium and France in 1917 and 1918 while serving in the Australian Army Medical Corps. The estimate for this outstanding medical officer's group is $40,000.
The auction has a strong element of high grade Australian Commonwealth coins highlighted by pattern square cupro-nickel kookaburra pennies of 1919, 1920 and 1921 both types, gem quality proofs of florin 1915H, crown 1937, florin to halfpenny 1938 offered individually and 1939 kangaroo reverse halfpenny. Currency coins include many gem uncirculated florins purchased from Sale 11 to 23 in the early 1980s, and a nearly complete collection formed by West Australian collector Patrick Connolly offered in one session. This collection is generally in extremely fine to choice uncirculated through all denominations. Colonial coins include a previously unseen NSW holey dollar and dump, 1813, a series of Proclamation coins as well as Australian gold from an 1852 Adelaide pound onwards.
A high grade collection of half sovereigns from 1856, with quite a few from the Reserve Bank of Australia Collection, should get the attention of collectors. This collection has been formed by a Queensland collector over the last twenty five years. A Sydney collector has consigned choice Sydney Mint sovereigns 1855-1870, some ex Spink Australia Sales 36-39.
Historical medals include an original River Murray Navigation medal in bronze by L.C. Wyon and a silver medal of the French explorer La Perouse. A fascinating 'recent' medal is a gold Coronation Medal 1902 (56 mm) engraved to 'Right Honourable Thomas Hughes First Lord Mayor of Sydney 1902'. Containing over $4,000 of gold this historic and unique piece of Sydney history is expected to sell for $10,000 or more.
British coins include a series of copper and bronze from 1839 to 1901 sent by Spink to a collector in Sydney in January 1960. The coins have been packed away almost since then, many have original mint red, the rarest is an 1856 penny. From the late Frank McCarthy's Collection comes a fine silver crown of Elizabeth I, 1601 and a gold unite of James I. The New Zealand coins include a Waitangi proof set accompanied by a letter and registered envelope for delivery in 1935. The set was only opened in recent years. Miscellaneous tokens include a choice set of seven bone tokens of Keeling Cocos Islands, 1913, collected on the island during World War II.
World coins in gold and silver feature popular silver dollar issues of China and U.S.A. Ancient coins include a predominately Roman collection formed by a Sydney teacher.
Banknotes include the collection of the late Graeme Bamford of Perth, who formed a collection of Western Australian paper currency, a collection of Australian five dollar notes including all three specimen types and a collection of postal notes. Once again a major collection of New Zealand notes is offered, this time the collection formed by Martyn Cole, a New Zealander now living and working in Europe.
Australian notes include a newly discovered example of the Australian Wool Company one pound note; this one is signed and dated 1855, six years after Ben Boyd's Royal Bank of Australia was forced into administration. The rarest Commonwealth note is an emergency issue of 1914 known as the rainbow pound. A small hoard of gold period notes of 1918-1926 will attract attention including a Cerutty/Collins five pounds which could be classed as an error as there is only the slightest trace of the mosaic of fives overprint on the back, the ink must have faded and not have been noticed. Though condition of some notes is affected by poor storage they are attractively priced for collectors. In decimals, there is a specimen one dollar that precedes the type one issue; it may be unique and so estimated at $30,000. A one hundred dollars test note BX 96 prefix is also the only example known being printed with blue ink portraits (like the ten dollars) instead of grey ink. Is it a completely new variety? No doubt it will attract strong bidding with an estimate of $25,000.
This three day sale is packed with many interesting lots to attract most collectors and the catalogue should be carefully studied whether on-line or with the printed hardcopy.
The viewing takes place at the Melbourne office of Noble Numismatics Pty Ltd, level 7, 350 Collins St, on Wednesday 20th July to Friday 22nd July and Monday 25th July for international and interstate viewers. Enquiries: Melbourne, Gerhard Reimann-Basch, Ph. 03 9600 0244. Sydney, Jim Noble, Ph. 02 9223 4578.