Sale 97 realises almost $5 million
Wednesday, 03 August 2011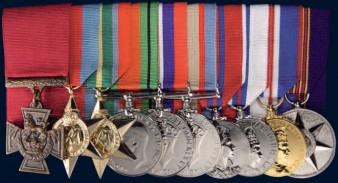 Victoria Cross group to Pte E (Ted) Kenna realised $1,167,330.
This sale was a success overall with a total realised of nearly five million dollars including the buyer's premium and GST on the premium (total of 16.5% on the hammer prices).
The final session brought the sale to a climax with the offering of the Captain William Bligh medals and the Pte E (Ted) Kenna World War II Victoria Cross group. There were five TV stations' camera and crew operators lined up at the back of the room, several print media journalists were also in attendance to record the results.
The small naval gold medal (lot 3880; est $200,000) was hammered down after a short bidding duel at $216,000 while the "Breadfruit" medal of the Society of Arts (lot 3881; est $50,000) was the subject of a long bidding duel between two phone bidders until finally hammered down for $116,000 to the buyer of the previous lot giving the two medals a total of $386,780 for the pair (including buyer's premium and GST on the premium).
The silver tableware forks of William and Elizabeth Bligh (lot 3882; est $3,000) realised $5,808. Nearly half an hour later came the highlight lot, the Victoria Cross group (lot 3985; est $900,000) which opened in the bidding at $750,000 and saw two phone bidders compete with small bidding raises over three or four minutes until the final winning bid was made at $1,002,000. The successful bidder wished to remain anonymous. The family of Ted Kenna was present and his son Rob spoke to the media before and after the sale on behalf of the family. The price set a new record for a military medal lot in a Noble Numismatics sale.
On the first evening session some highlights were, the 1915H proof or specimen florin (lot 1444; est $75,000) which realised the top price of $147,955 after a drawn out bidding war between two floor bidders. The proof 1938 penny (lot 1453; est $35,000) went to a phone bidder at $46,600. The rest of the 1938 set went to a floor bidder who was outbid on the penny.
The pattern square pennies were all sold at close to their estimates.
A new record price was set for a shield sovereign when the 1886 Melbourne (lot 1332; est $35,000) realised $37,863. A 1933 florin (lot 1486; est $6,000) more than doubled estimate realising $14,446.
An Elizabeth I silver crown ex Vincent Read and Frank McCarthy collections (lot 1614; est $1,500) sold strongly at $3,262. Top priced British lot was a Gothic crown (lot 1684; est $3,000) which realised $8,155. A George IV 1827 penny (lot 1678; est $1500) more than doubled estimate realising $3,961.
A Victorian Postal Note (lot 2095; est $500) brought a world record price of $5,243 to a postal bidder against a phone bidder. The Martyn Cole Collection of New Zealand notes generally were well supported with several active collectors in the room bidding. The top price went to a Union Bank ten pounds (lot 2271; est $6,000) at $6,424.
From Graeme Bamford's Collection the top priced item was (lot 2897; est $8,000) a Western Australian Bank one pound 1877 which sold way over estimate after a protracted bidding war between two floor bidders finally realising $29,125. The 'Shin plasters' lots 2901, 2902 est of $1,500 each, sold for $5,825.
In ancient gold coins an aureus of Uranius Antoninus, the usurper, (lot 3239; est $40,000) realised a record $59,998 or virtually $60,000. A Septimius Severus aureus (lot 3237; est $18,000) went to the same room buyer for $29,708.
The next Noble Numismatics auction to be held in Sydney on 22 – 24 November will include an important private collection of Indian Banknotes, a collection of agricultural medals, an unlisted NSW holey dollar and a military medal awarded to Captain Piper.